Details

Written by

Owen Carlton

Category: Uncategorised
Hits: 9819
Details

Written by

Owen Carlton

Category: Uncategorised
Hits: 569
Polish Rats of Tobruk Immigrants
Copied from Trove and provided by Lucyna Artimiuk, from the Polish Museum in Hobart, Australia.

280 Poles on way to Aust.
AUSTRALIAN ASSOCIATED PRESS
LONDON, Sat. — Two hundred and eighty

Polish

soldiers, all members of the Rats of Tobruk Association, will leave England for Australia in the liner Asturias on August 29.
They have been specially selected for work on the Tasmanian

hydro-electric

scheme,and will travel as a military unit under the command of a British Major.
They will be discharged from military service when they arrive in Australia.
They will be admitted to Australia on condition that they remain in the employ of the Tasmanian

Hydro-Electric

Commission for two years.
Before leaving for New York on the Queen Elizabeth today, Immigration Minister Calwell said the British Government had agreed to make available
the Asturias for another voyage to Australia in November.
She would carry 1400 migrants.
Details

Written by

Owen Carlton

Category: Uncategorised
Hits: 1539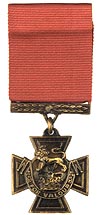 Rats of Tobruk Victoria Cross Recipients
Currently there are Six (6) Victoria Cross Recipients on my National ROT Database.
************************
Having recently been gratefully gifted the magnificent book "The Victoria Cross Australia Remembers" by the Author, Michael C. Madden and Miss Susan Serey, City of Casey Councillor, I was prompted to investigate how many Rats of Tobruk Victoria Cross recipients were stored  on my National ROT Database and ROT Tribute Website.
Having found Six (6) ROT Victoria Cross recipients, I felt the need to reveal the details of how they earned their Victoria Crosses, on my ROT Tribute Website, for all to see.
Thank you Michael C. Madden for producing this incredible book - a Masterpiece of our Military Heritage - and for autographing it for me, in our home - what a surprise this was for me - Blown away.
Thank you Susan Serey, for being such a great Friend and for being part of the Team which organised the launch of Michael Madden's book at Bunlil Place, City of Casey, and furthermore; for having organised the gift of the book to me, and for bringing Michael Madden to our home.
I recommend  this Masterpiece to all avid readers and collectors of our Australian Military Heritage, the proceeds of which goes to out Permanently and Totally Incapacitated (TPI) Victoria, Australia.

***************************
The below content has been obtained from the Australian War Memorial website, with minor changes to suit my presentation.

***************************************************
NX15705 EDMONDSON, John Hurst, 2/17 Bn.
WX9858 GURNEY, Arthur Stanley, 2/48 Bn.

QX1071 FRENCH, John Alexander, 2/9 Bn.
WX10426 GRATWICK, Percival Eric, 2/48 Bn.
 images/VC/Percival-Gratwick.pdf
NX24405 CHOWNE, Albert, 2/13 Bn.
SX7964 DERRICK, Thomas Currie, 2/48 Bn.
Details

Written by

Owen Carlton

Category: Uncategorised
Hits: 825
Please refer to these Links for more Information:-
( http://www.gunplot.net/main/content/chapter-12-tobruk-ferry-service )
( http://www.gunplot.net/main/content/scrap-iron-flotilla-sblt-j-f-moyes-ranvr-rare-1944 )
My ROT Tribute Website currently contains the records of 1052 RAN Members of :
HMAS Waterhen

HMAS Voyager

HMAS Vendetta

HMAS Vampire

HMAS Stuart

Also listed are Crew Members of Escort Ships:-

Hobart

Parramatta

Napier

Nizam
These are the Ships of the Royal Australian Navy who supported our Army Troops in Tobruk, during the Siege Period of April 10 til November 7, 1941.
These Ships carried in the Supplies (Food, Ammunition, Fuel & Equipment, etc) and Reinforcement Troops to replace those who had Fallen or who were Wounded in Action.
These Ships carried out seriously Wounded, for evacuation to better equipped Hospitals in Egypt and Palestine, to receive treatment that could not be provided at the 2/4 AGH, located in Tobruk, by the Harbour.
These Ships operated under most difficult of conditions, very often under attack by Italian and German aircraft - theirs was no easy task.
The Army Rats of Tobruk, looked up to these RAN Officers and Men, who supported them under the most arduous conditions - you will never hear a Rat of Tobruk (Army) say anything bad about our Navy.
I thank the Webmaster of Gun Plot for providing Crew Lists for the 5 Scrap Iron Flotilla Ships, from which my records have been created - not all on those Crew Lists for these Ships, Served on the Tobruk Run, for that particular period and do not appear on my records.
If your RAN Rat of Tobruk is not on my ROT Tribute Website, please contact me with his Full Names and his Service Number, so that I can investigate.
My Contact Details can be found in my ROT Tribute Website - Contacts.
Thank You
Owen Carlton
A Proud Nasho
EX ROTA Inc